FROM PRINCIPAL'S DESK

Dr. Mrs. S. Samuel, M.A, M.Ed, M.Phil., Ph.D.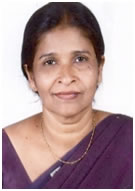 A lot is happening in the educational scenario. 'Right to Education' bill is passed in the parliament. Now education has become a fundamental right. Whilst this happens in the home front side by side another big event is on the anvil- the introduction of a bill for the entry of foreign educational institutions to impart education in our homeland. This provides a clarion call for the sweeping changes that has to come very shortly. To equip the students to face this change is a big challenge. Keeping this perspective we framed a curriculum, which is diversified, innovative and unique of its own. 'Beyond Excellence' is our motto.

A highly qualified committed management well experienced qualified staff and dedicated non-teaching staffs are an attraction of our institution. I take this opportunity to thank management, teaching and non-teaching staff for their constant support and co-operation in making this institution well known in imparting quality education programme. I pay rich tributes to late Shri. Rajabhau G. Mirashi and Smt. Shanta R.Mirashi the founder members of our institution. They are our inspiration! The present Chairman Dr. Jaydeep R.Mirashi and Superintendent Dr. Patibha J.Mirashi are our strength. Their constant support is the key to the constant growth and development of our institution.

I assure that the all round training we provide in our institution will prepare the students to embrace the changing educational scenario with confidence and courage. It is unique to fulfill their educational goals and aspirations.



THE B.Ed. COLLEGE :

The B.Ed. College was established in the year 1990 with late Mrs. Shantabai Mirashi as the Superintendent of the College. A person of simple living and high thinking, who moulded the college according to her philosophy and ideals. She influenced to imprint her vision and laid the foundation for the concept of 'family and togetherness'. Within a span of 21 years, the college achieved an enviable position as one of the best colleges of education in the University of Mumbai. Library is well stocked with recent and modern books on education and research. Nearly 25 journals and periodicals on teacher education have been subscribed. Reading room facilities are available. The psychological Laboratory is well equipped with apparatus as per the needs of B.Ed. Syllabus.
The faculty members are well qualified and experienced in the respective discipline. They pay individual attention to the academic needs of students.
Results are always above 90% and few years 100% and good number of students scored distinctions, first classes and higher second classes. Few years' institution was first in the University Board Examination Result.
Students and teachers are always deputed to participate in academic seminars, workshops etc. The co-curricular activities need a special mention here. Management is very much alert and co-operative to satisfy the academic needs of the students. Moreover, the management constantly encourages staff members to enrich their professional development and efficiency.



General Information
Name and address of the Institution - NAGRIK SHIKSHAN SANSTHA'S COLLEGE OF EDUCATION
District - Mumbai
State - Maharashtra
Email - nagrikshikshanbed@yahoo.co.in
Telephone No. with Code - 022 65298616
Year of establishment - 1990

Teacher Education Programmes offered in the Institution
S. N

Programmes

Number and Year of NCTE Recognition

Sanctioned Intake

01

B.Ed.

WRC/5-6/20/2000/7511,date 08/10/2000

80 students

WRC/2-32/113152/72/2005/4270,
date 01/05/2005

100 Students

WRC/APW0718/113152/2015/142333, date 31.05.2015

50 students 
( One Unit)

02

M.Ed.
(Proposed)

Inspection team visit on 31st July 2016) (As per notice no. WRC/5-23/APP2862/255th /MS/2015/171390 dated 28th July 2016)

50 students 

Details of Affiliation : Yearly Continuation Affiliation
S.No.

Programme

Name of the Affiliating Body

Number and Year Affiliation

01

B.Ed.

University of Mumbai
Yearly Continuation of Affiliation and Extension of Affiliation

Aff/Recog./4050 of 1990
date 11/07/1990

Aff.-2/ICD2016 – 17/665, 
dated 11/07/2016
Aff.-2/ICD2016 – 17/665, 
dated 11/07/2016
v. Status of Affiliation
Permanent/Temporary  : Temporary
In the case of Temporary Affiliation, it is valid up to :  31st May 2017.
vi. Type of Management (Mark which is applicable)  :  Self Financing Institution
vii. In the case of Government aided or Self-financing Institution, mention if the
Institution is managed by :  Registered Trust :  Nagrik Shikshan Sanstha, Mumbai ( Reg. No. : F-1116 Bom.)
viii.Status of the Institution (Mark which is applicable) :  Independent Institution offering only Teacher Education Programme.
ix.Institution meant for:   Co-Educational
x. Accessibility
Whether accessible in all-weather and through Pucca Road :  Yes
Name of the Nearest Railway Station:  Mumbai Central ( Western Railway )
i.History of the Institution:
Institution, founded in September 1990, has completed 26 successful years in imparting quality education.  As a teacher education institution, it works with the objectives of developing overall personality of students.  We believe that tomorrow's teachers should be equipped with knowledge, values and right attitudes towards teaching and learning.  The institution is the brain child of the founder member and then superintendent, Mrs. Shantabai R. Mirashi who moulded the institution with her philosophy of simple living and high thinking.  At its academic front, institution is performing excellently and always maintains value based practices.  We have achieved almost 100% results since last many years. Our curriculum is competitive, diversified, innovative and unique of its own.  A highly qualified and committed management members, Chairman Dr. Jaydeep R. Mirashi and Superintendent Dr.(Mrs.) Pratibha J. Mirashi,  are the torch bearers.   Their constant support is the key for the constant growth and development of the institution.
ii. Vision Statement:
To equip and enhance the institution for excellence in teacher education, to adopt inclusive education, to achieve expertise in technology, innovation and consultancy and also to emphasize on a value based educational system.
iii. Mission and Objectives

To develop competent and committed teachers for the changing and challenging educational scenario.
To develop a value system among teaching community inculcating scientific temper, secular values and social commitments.
To serve the community through extension and consultancy activities.
To conduct research, dissemination of research findings to the area of education field.
To promote quality education through seminars, workshop and exhibition.
To develop adequate teacher competency and commitment for teaching, learning research and extension.
To develop competent educational managers for managements and organization.
To prepare students with global competency to successfully face the changing global scenario.
To develop quality enhancement and quality sustenance in the institution.
iv. Our Emblem
Our emblem depicts a traditional burning oil lamp emits light to the world placed in the midst of pristine petals sprinkled over and a book of knowledge
v. Location of the College
The college is situated at Tardeo, M.P.Mill Compound (Janta Nagar) ten minutes walk from Mumbai Central Railway Station. It is near the famous Tardeo Air Conditioned Market that is linked by many bus routes to different parts of Mumbai city. The college campus is spread over 2700 sq. yards area. On the back side of the college there is a 5500 sq .yard area hill slop covered with lush green trees and thick bushes providing a very picturesque sight and a healthy atmosphere.
vi. Rules and Regulations of the College

The students are responsible to the Principal for their conduct in the college as well as in public
Regular daily attendance and punctuality are insisted upon.
Insubordination and unbecoming language or conduct sufficient reasons for the rustication of a student.
As various schools are co-operating with us by offering opportunities for practice teaching, every effort should be made to give lessons punctually. No lesson once assigned can be dropped without a very sufficient reason. Should such reason occur, due intimation should be given to the authorities of both the college and the school concerned. Students are required to abide by the discipline of schools in which they practice or observe lessons.
Students shall have to observe all the rules and regulations of the College. The Principal's decision shall be final.
vii. Status of the Institution

It is an Unaided Private Institution
viii. Medium of Instruction

The institution has at present arrangement for teaching through medium of English / Marathi.
viii. Medium of Instruction

The institution has at present arrangement for teaching through medium of English / Marathi.
ix. Intake Capacity

The intake capacity for the current year as per NCTE Regulation 2014 notification is 50 students (One Unit)

Significant Achievements
NAAC Re-accredited with B Grade (CGPA 2.65)
Institution stood first place in University festival "UDDAN" in 2009 – 10 for Poster Competition
Institution stood Second place in University festival "UDDAN" in 2010 – 11 for Poster Competition
Consolation prize in University festival "UDDAN" in 2010
Result of the institution in was 100% in the year 2011 – 12 and 2012 - 2013
Prin. Dr.(Mrs.) S.Samuel has got recognition for her research work "Developing Scientific Thinking among Primary School Students" which is appreciated by NCERT, Bhopal, New Delhi (International Seminar)
i. Contributions in the field of education

Principal Dr. (Mrs.) S.Samuel worked in various committees of University of Mumbai like Local Inquiry Committee, Evaluation of Internal Assessment Committee etc
Principal, Dr. (Mrs.) S.Samuel is recognized as Guide for Ph.D. students of Mumbai University.
Institution runs Diploma in School Management (DSM) course conducted by YCMOU, Nashik.
ii. Eminent Alumni

Dr. Mangesh Bansode , Head , Academy of Theater Arts, University of Mumbai
Dr. Sunanda Bhaviskar, Asst. Prof. NCERT, New Delhi
Mrs. Londhe, Asst. Prof. Secondary Training College of Education, Dhobitalo
Dr. Priti Chandorkar, Asst. Prof. Gandhi Shikshan College of Education, Santacruz.
Dr. Rupali R. Raut , Asst. Prof. Nagrik Shikshan Sanstha's College of Education, Tardeo.
Dr. Manisha R. Gawde, Asst. Prof. Nagrik Shikshan Sanstha's College of Education, Tardeo.
Dr. Sangeeta Parab Prof. Jai Hind College, Charchgate
Dr. Jyoti Bhaskare, Co-coordinator, Pranjali International School
Mr. Prasad Gurao, Professor, Nagrik Shikshan Sanstha's College of Education, Tardeo.
iii. Other

Institution would like to highlight that beside academics, students are provided health services. Since Chairman, Dr. Jaydeep R. Mirashi and Superintendent, Dr.(Mrs.) Pratibha J. Mirashi are practicing medical doctors, both of them attend the health of students, teaching and non-teaching staff. Institution also provides facilities like Gymkhana, Gymnasium to students and teachers in minimal fees.
The BEd college is privileged to have two schools in the same educational complex. One is Marathi medium SSC board school Bhau Saheb Hire Vidyalaya, and the other is IB board school Hill Spring International School. Both schools work as model schools in building up the students to capable teachers for the future